GUTTER REPAIRS
IS THE ROOF LEAKING AGAIN? IS THE GUTTER ACTING UP AGAIN? DID THE DOWNSPOUTS BREAK DURING THE RAIN?
THESE AND MANY OTHER GUTTER REPAIRS START BREWING UP WHEN YOU HAVE AN OLD GUTTER SYSTEM. THE ONLY WAY TO RESOLVE THE PROBLEM IS BY CALLING IN THE PROFESSIONALS.
Can we fix it? Yes we can!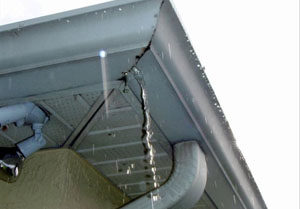 Faulty Gutters Aren't Just An Eyesore!
Why Is Gutter Repairs And Maintenance Necessary?
Gutters are like the backstage crew. You might not notice them much but they silently work to keep the show running smoothly. In a homeowner's case, they ensure that rainwater doesn't become the cause of corrosion for your house and yard.
That's why it's crucial that you keep an eye on your gutters. One faulty detail might lead to bigger more expensive repairs-leaky roofs, heaving driveways, sagging boards, cracked foundations, and eroding landscape.
How Do You Know Your Gutters Need Repairs?
It's advisable to survey the gutter lines once in awhile. This guarantees that your home gutter system is in working order. And if you find something amiss then you know that it's time to invest in some proper repairs.
HERE ARE A FEW SIGNS THAT INDICATE THAT YOUR GUTTERS DESPERATELY NEED A FIX:
The gutters have started pulling away from the house.

The downspouts don't function properly

There is water leaking from the joints

You're seeing signs of landscape erosion
PRO-TIP: Sometimes diy can save the day. Other times it could cost you more in the long rUN!
How Can We Fix It?
MDA Gutters LLC has been working in this field for many years now. Our vast experience has taught us how to tackle all kinds of gutter problems. So it doesn't matter if your gutter emergency is big or small. We promise to come have a look as soon as you call.
HERE'S A SNEAK PEEK OF ARE GUTTER MAINTENANCE SERVICES:
We stop your gutters from becoming a leaky mess

We fill all seams and fix the cracks

We remove any obstructions

We ensure your entire gutter system is working properly
WE'D BE HAPPY TO THROW IN ARMOURGUARD ALL WEATHER GUTTER GUARDS TO PROTECT YOUR NEWLY REPAIRED GUTTERS!
Why Are We The Right Choice?
One of the reasons why homeowners shy away from repairs is the hefty repair bill. We try to navigate from this sensitive issue by promising customized packages if need be. We don't plan to blow your budget or double your repair bills. Neither will we try to sell you repairs you don't need or use flimsy products.
WE ONLY PROMISE TO OFFER:
Reasonable prices

High-quality products

Long-lasting repairs

Smart solutions

Timely service
WE ALWAYS PUT YOU FIRST!
DON'T TAKE YOUR GUTTERS FOR GRANTED! CALL US NOW BEFORE THE GUTTER REPAIRS ESCALATE!